FAQs for New Attendees
Attending the Conference
1. How do I convince my organization to send me to I/ITSEC?
We provide suggestions for making a case to your organization. Visit the Attendee Justification page for more information.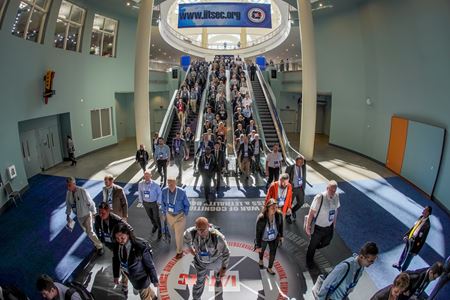 2. Who should attend I/ITSEC?
I/ITSEC is a diverse conference, designed for people who work with training, education, simulation, and/or learning technologies in some capacity. Our attendees come from industry, government, military, and academia, and they work in a range of sectors including military and security, adult education, K12 education and STEM, medical, energy, transportation (including aerospace), and manufacturing. In those disciplines, our attendees fill various roles; for instance, they are leaders, policymakers, scientists, applied researchers, engineers, simulation professionals, military personnel, first responders, teachers, trainers, and instructional designers. On our Exhibit Hall floor, we also invite business development professionals to showcase their companies' products and services.

I/ITSEC is an international conference, and we warmly welcome attendees from around the globe. In fact, we make special accommodations for our foreign visitors (International Attendees).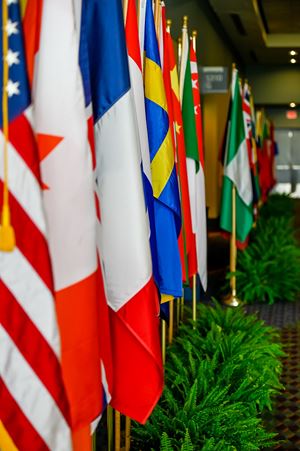 3. How do I figure out what to attend at I/ITSEC?
I/ITSEC offers many different experiences, and many events run parallel to each other. So, take the time to plan your week before arriving at the conference. You can look at a PDF of the program or search the online version of the program which is updated every fall. Below are some general suggestions to guide your agenda.

You should attend the I/ITSEC paper and special event sessions if you want to learn more about the state of the art in training, education, simulation, and learning technologies or if you are interested in hearing about the status of current projects and policies associated with these disciplines. Visit the Exhibit Hall if you want to see (or showcase your own) products and services. Attend the special events and networking opportunities if you want to meet policymakers, military leaders, and top minds in our topical disciplines. Attend the Serious Games Showcase and Challenge (in the Exhibit Hall) if you are interested in playing or applying games for learning. Finally, attend the tutorials and/or Friday Workshops if you are interested in professional development or earning Continuing Education Units (CEUs); some of the paper sessions also support professional development and are eligible for CEUs.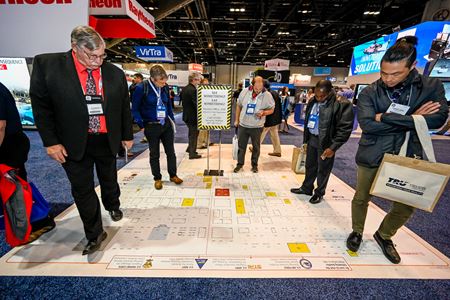 4. How do I register for the conference?
Visit the Registration Page and follow the directions.

5. What does conference registration include?
Full registration fees include access to all I/ITSEC events and the option to receive Continuing Education Units (CEUs). It also includes certain meals and snacks: Lunches (T-W-Th), Coffee Breaks (T-W PM, W-Th AM), Continental Breakfast buffets (W-Th), and the Thursday evening gala, which includes a catered dinner and entertainment. Full registrants also receive a bag with the conference materials, including an abstract book. All Papers and abstracts will be made available online at the Paper Repository (I/ITSEC 2018 Papers and previous years are located at www.iitsecdocs.com). Finally, the fees cover all other administrative expenses, such as the Show Daily summary newsletter and shuttle service between the convention center and designated conference hotels.

6. What clothes/uniform should I wear?
For the General Sessions, wear business attire. Military personnel should wear Army ACUs or duty uniform, Marine Corps service "C," Navy service khakis or Navy service uniform, Air Force short or long service blues, or Coast Guard tropical blue long.
The Gala on Thursday night is a Black Tie (optional) event. Active Duty Service should wear Army blue (Army evening mess optional), Marine Corps evening dress (dress blue "B" or service "A" optional), Navy dinner dress white (service dress white optional), Air Force dress blue with tie and jacket (mess dress optional), or Coast Guard dinner dress white (service dress white optional).

7. How do I find my way around the exhibit floor?
Hundreds of companies showcase their wares in the I/ITSEC Exhibit Hall, and navigating through their booths can be daunting. In addition to commercial businesses, the Exhibit Hall features booths from government and military agencies as well as special events, such as Warfighters Corner and the STEM pavilion. You can see a floorplan of the Exhibit Hall here.
In general, commercial booths fill most of the Exhibit Hall. The four U.S. Armed Forces share a large booth in the center of hall, which is subdivided into the four Services (i.e., Air Force, Army, Navy, and Marines). The snack bar and cyber café fill the far left-side of the hall, and the buffet-style lunch area (provided for full-registrants) sits on the far-right side. Near the lunch area, you can find the STEM pavilion, Healthcare pavilion, and Warfighters Corner area. The STEM pavilion includes the Future Leaders Pavilion (a showcase of top high-school students), the Serious Games Showcase and Challenge (where you can play and vote on serious games), and the NASA Place.
Paper Presentations
8. What are the paper presentations like?
Each paper session includes three presenters who deliver talks on full-length papers, which are available in the conference proceedings. The speakers stand at a podium in front of the room and deliver their presentations with the aid of a projector, slides, and (optionally) videos. Each presenter speaks for about 20 minutes, followed by about 5 minutes of questions and 5 minutes of transition time between speakers. We are strict about starting and ending each speaker on time, because some attendees may want to attend the first paper in one session and then watch the next presentation in another room. Most of the paper sessions are attended by 50-100 audience members.

9. How do I submit a paper presentation for consideration?
Researchers, scientists, practitioners, and decision-makers are encouraged to submit topical abstracts during January or February each year. Each abstract must be submitted to one of the six I/ITSEC subcommittees, who then rigorously peer-review each submission. Each accepted abstract is assigned a "bird-dog" from its respective subcommittee. Bird-dogs act like personal coaches, peer-reviewers, and points of contact for the paper authors. Click here to see an Ignite! Video on how to write a good I/ITSEC abstract.

Full 10-page papers are due in June. The subcommittees meet in July to discuss their peer reviews of each paper and to vote on which to accept. Often the subcommittee members will identify necessary edits or other comments; the assigned bird-dog conveys these questions and edits to the paper authors. The authors then have about a month to complete the revisions and submit the final, camera-ready versions of their papers in August.

Paper presentation slides must be created using the I/ITSEC slide template. Those slides are due in September, and they are reviewed by the subcommittee chairs and deputy chairs in October. They compile comments and requested edits for the authors, and revised slides are due in November.

10. How are the papers and their corresponding slide presentations reviewed?
The abstracts and papers are reviewed by the six subcommittees, which are organized by thematic area: Education, Emerging Concepts and Innovative Technologies, Human Performance Analysis and Engineering, Policy Standards Management and Acquisition, Simulation, and Training. Each subcommittee includes approximately 30 people, who are carefully selected based upon their areas of expertise as well as their professional experience. We try to have a diverse mix of representatives from industry, academia, government, and military on each subcommittee. You can read more about the subcommittees here.

Each committee is led by a chair and deputy chair. The chairs have leeway on their exact review processes; however, all papers are judged based upon their quality, relevance, timeliness, and potential appeal to the audience. We also reject "sales pitch" papers that only highlight a product or service without providing general value to attendees. (Sales pitches belong in the exhibit hall.)

The subcommittee members review the abstracts and papers independently, and then they meet in March and July, respectively, to discuss and vote on the submissions. Only the subcommittee chairs and deputy chairs review the presentations, and they meet to discuss those reviews in October.

11. What is the acceptance rate for submitted papers?
Typically, we receive around 400 abstract submissions, and less than half of those will be developed into full papers. (Some abstracts are rejected, and other times authors choose not to complete the full paper.) We generally accept around 70–75% of the full papers that are submitted for review; however, we don't have a set quota, so each paper is judged on its own merit.

In 2015, for example, authors submitted 375 abstracts, and 209 full-papers were completed for review. Ultimately, 141 full papers were accepted, which is a 72% acceptance rate (between paper submission and paper acceptance).

12. How are the paper presentations scheduled?
During the paper review meeting in July, the subcommittees organize the papers into three-paper sessions. They try to find papers that complement one another, and then they create a pithy title to describe the session. Except for special cases (e.g., time conflicts), the paper sessions are scheduled sequentially for the Tuesday, Wednesday, and Thursday conference dates. Each subcommittee also selects one Best Paper, and the Best Papers from all six subcommittees are schedule together in two special sessions.

13. How is the Best Paper selected?
Each subcommittee selects one Best Paper. The subcommittee members nominate and select the Best Paper recipient and runners-up during the paper review in July. Each subcommittee may use slightly different criteria, but the Best Paper generally excels in these ten areas: technical accuracy, concise, relevancy, appeal, timeliness, understandability, spelling/grammar, use of figures/tables, quality of figures/tables, and originality.

A select group of distinguished Conference Committee members, called the Best Paper subcommittee, reviews the six subcommittee Best Papers. Then they watch each author's presentation during the conference. They consider both the paper and presentation quality in their selection process for the overall Conference Best Paper.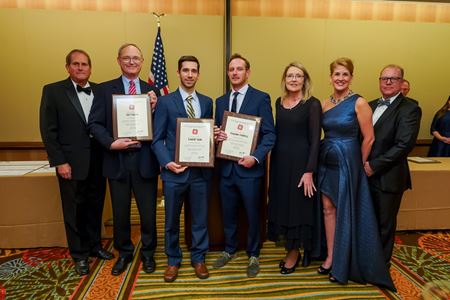 14. What does the Best Paper prize include?
The Best Paper authors from each of the six subcommittees receive plaques, and they are recognized at a special invitation-only VIP reception that precedes the Gala on Thursday night. One of the six Best Papers receives the overall Conference Best Paper. Those authors additionally receive crystal trophies, and they are recognized during the Gala on Thursday night.

Tutorials
15. Is admission to the tutorials included in the regular conference registration?
Yes, your full conference registration provides admittance to the Monday tutorials (as well as the Friday workshops).

16. What are the tutorials like?
The tutorials are 90 minutes long. Tutorial presenters may use different formats, but generally the tutorials involve a lecture-style presentation from a knowledgeable speaker or speaking team. Audience sizes vary widely, between 30–100 people. All tutorial attendees may receive Continuing Education Units for their participation.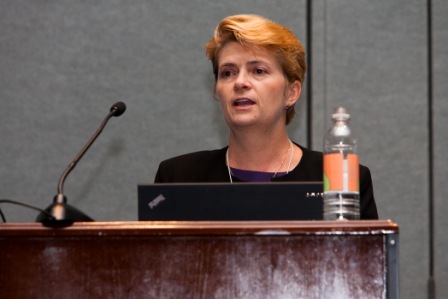 17. How do I submit a tutorial for consideration?
Similar to the paper submission process, potential tutorial presenters submit topical abstracts and tutorial learning objectives during January or February each year. The tutorial subcommittee reviews the submitted abstracts. Each accepted abstract is assigned a "bird-dog" from the tutorial subcommittee, who acts as the personal coach, peer-reviewer, and point of contact for the tutorial authors.

Full tutorial slide decks are due in June. Tutorial authors are not required to write full papers; their slide decks, abstracts, and learning objective lists serve as their full submissions. The tutorial subcommittee meets in July to discuss their peer reviews of each slide deck and to vote on which to accept. Often the subcommittee members will identify necessary edits or other comments; the assigned bird-dog conveys these questions and edits to the tutorial authors. The authors then have about a month to complete the revisions and submit the final, camera-ready versions of their tutorials in August. The tutorial slides are published in the conference proceedings.

18. Can I earn Continuing Education Units by attending a tutorial?
Yes, all of the tutorials are eligible for Continuing Education Units (CEUs). Your attendance at a tutorial is tracked via your badge. Assuming you are registered to receive CEUs, you earn the CEUs simply by attending the tutorial. (The full conference registration includes the cost of CEUs.)
Special Events
19. Is admission to the special events included in the regular conference registration?
Yes, your full conference registration provides admittance to all special events. Additionally, all conference attendees (at any tier of registration) are encourage to visit the Exhibit Hall and watch the Warfighters Corner special events.

20. What are the special events like?
Each special event is unique. Generally, the special events last 90 minutes, and frequently they include a discussion panel with 4–6 distinguished thought leaders, military officers, or policymakers. Audience members are typically encouraged to ask the panelists questions. However, not all special events follow this model. The Ignite! event, for instance, includes several dozen fast-paced 5-minute presentations by distinguished speakers.

I/ITSEC includes three tiers of special events. Signature Events, such as the Congressional Modeling and Simulation panel, include highly distinguished participants and topics that most widely appeal to all conference attendees. Next, Focus Events, such as Warfighters Corner or Ignite!, include highly distinguished participants and appeal to select communities among the conference attendees.

Finally, Community of Interest/Program Brief events are specifically tailored to meet the needs of distinct subgroups; examples of these events include the Simulation and Training in Europe event or the Interoperable Performance Assessment symposium.

21. How are the special events ideas reviewed and selected?
The Conference Committee considers notional special event ideas during the abstract review meeting in March. Each special event must be presented by a Conference Committee member, and the ideas must include the concept, logistical requirements, and anticipated panelists. At that time, the event ideas are accepted or rejected, assigned to a tier level (i.e., Signature, Focus, or Community of Interest/Program Brief), and the event organizers are given feedback to enhance the quality of their events.

In July, the event organizers present the complete special events for review at the paper review meeting. The conference leaders votes on which events to accept as well as whether any need to be reclassified by tier level. At this time, the events should be mature, including confirmed speakers.

Only a small number of Signature and Focus Events are included each year. The Conference Committee selects the special events judiciously, based upon their likely appeal, the quality of the panelists, and the relevance and timeliness of their topics.