President's Message
President Robb's Message to NTSA and I/ITSEC Constituents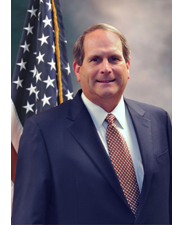 James Robb, USN (Ret.)
President, NTSA

President RADM James Robb, USN (Ret) Discusses 'Overwhelming Government Support" of I/ITSEC 2016

"My takeaway is that the government is back," Robb told the Show Daily. "The overwhelming support by senior leadership in the military was incredible. We probably had over 100 military distinguished visitors. I've interacted with a lot of them, and, in almost every case, when they come here and see this they are amazed by it."
In addition to the quantity of government visitors, Robb emphasized the quality in terms of benefits to industry exhibitors.
"They were of extremely high quality," he said. "We had operators. We had representatives from a wide variety of organizations – not only in training but also acquisition and headquarters staff and leadership. And they were very, very impressed with what they saw here. I'm very pleased."
Robb was equally pleased with overall attendance, which he estimated as "probably up a couple of percent from last year."
In terms of specific discussion areas, he offered the representative example of "substantive discussions" focused on the challenges of connecting live, virtual, constructive elements together.
"It's important when you can have those discussions with senior leaders, because many of these challenges are related to policy in areas like the balance between IT safety and IT capabilities," he said. "When you are pushing you are usually pushing into resistance from policy that is designed to stop bad things from happening. Unfortunately, that can also prevent good things from happening. So a discussion about how to find the right balance is really critical. It's not that we don't want to be safe. We just need to put out that the person who says 'No' can't be the last to answer. Somebody has got to come in and say, "Not, no. But go and figure this out and get on with it.'"
Robb also had high praise for the second iteration of OBW. "We've had a lot of great comments and some discussions about the OBW future – maybe OBW 2.0 – which is possibly a more persistent environment," he said, adding that NTSA efforts include "promoting OBW as a unique laboratory and development environment.
"One of the main reasons is because it's 'government-like' but it's not 'government'" he explained. "That way industry can come and plug in much more easily than they could with a pure government environment. The power of a 'government-like' architecture is that people don't have to go out and get all the government approvals to 'play in the sandbox.' That means they much faster can go in and do development kinds of things: see how it really works; see how it interacts with the rest of the systems; and see how it could be compliant. Industry can then go back and either refine it or use it as a sort of transition tool. The government can say, 'This has been pre-certified on the OBW framework.' And that could help things go faster when they try to get it plugged into the real government architecture."
"The capabilities are actually on the floor," he added. "The challenge is in getting them integrated, which can take years in many cases."
Echoing a theme shared by the CNO on Wednesday morning, Robb agreed on the critical need for things to move faster and the rapid acquisition advantages of expanded engagement between government and industry.
"If you look inside the OBW planning cycle, you'll find a microcosm of that arrangement, because the industry is in the room with the government people, collaborating on the development of the OBW integrated network," he said.
"This whole year has been about LVC," he concluded. "And LVC is important. But to really make the LVC vision work we have got to solve the mechanics and IT complexities in the back end, while more clearly defining the requirements on the warfighter end. And those are two areas we're working."