President Robb's Message to NTSA and I/ITSEC Constituents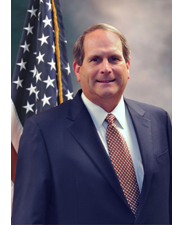 RADM James Robb, USN (Ret)
President, NTSA

President RADM James Robb, USN (Ret) Reflects on I/ITSEC 2019

Based on his own initial observations as well as discussions with myriad attendees, RADM James Robb, USN (Ret), President of the National Training and Simulation Association (NTSA), characterizes I/ITSEC 2019 as "really strong."
"Everything has been good," he told the Show Daily. "For example, the Congressional event on Monday morning was powerful. We had over 400 people there – a crowd that overflowed into adjacent rooms. And the discussion that went along with it was really terrific."
He added that Monday's tutorials were also well attended, with some of the rooms reaching overflow.
"The opening ceremonies and keynote presentations the next day were also wonderfully attended," he continued. "And the Senior Leader Panel was really exceptional, both in the quality of individuals participating and in the dialogue that took place. The panelists gave great insights, from OSD to the NATO folks. I probably had 50 questions from the audience. There was no way we could get through them all, but I believe that many of the questioners were able to find the answers they were seeking."
In his discussions with attendees, Robb said he has found agreement on the value of the events, with some planners now considering larger rooms in the future.
"We had another great event on Wednesday afternoon," he offered. "I had the pleasure of moderating a Navy flag panel that included a fleet commander, the head of training for Naval Aviation, the head of the Navy Reserves, and a representative from Naval Sea Systems Command. They fielded and answered some really good questions. It was respectful and they were on point."
Shifting to Wednesday's focus event on patient safety, as well as related healthcare exhibits and discussions, Robb said that the "growing interest in that theme" would translate to their continuation next year.
"The show floor is really terrific," he enthused. "The quality of the booths has improved dramatically. I think it's been very satisfying to most attendees and has created the opportunity for a lot of good networking."
Representative of other unique opportunities at I/ITSEC, Robb related a discussion he had on the show floor with someone who had attended the job fair event.
"She said that was a great experience and she talked to three or four companies," he said. "That's one of our new opportunities and it seems to have been very well received. We're also looking forward to seeing how the Iron Dev and some of the other new special events will play out. But right now they're doing very well."
As part of the expanding content and opportunities at I/ITSEC 2019, Robb pointed to an expanding presence by United States Special Operations Command (USSOCOM) representatives.
"The special operations people were here today for the AI signature event," he observed. "I met with their deputy commander yesterday and they are very interested in increasing their presence here. That would be great."
Robb said that the increasing USSOCOM interest also helped to open the door to explore the growth of synergies between that community and NTSA.
"Our related organization, National Defense Industrial Association, has the SOFIC (Special Operations Forces Industry Conference) event down in Tampa. Obviously, we don't want to compete with that, but I think they don't cover a lot of training at SOFIC. So I think that might be a place where the two events could complement each other," he said.
In terms of attendance, while final numbers won't be available until after the show, Robb said it was a safe estimate that growth is up by "more than 700" people.
"That's good growth and I'm happy with it," he said.
Although formal planning for I/ITSEC 2020 will begin Friday morning, it will overlap with some remaining 2019 events. As an example, Robb pointed to the participation of Vice Admiral Nancy Norton director of the Defense Information Systems Agency (DISA) in one of the Friday workshops.
"That's new," he concluded, "And we are very pleased."