Keynote Speakers
The I/ITSEC 2017 Opening Ceremonies will be held on Tuesday 28 November in the Hyatt Regency Orlando Hotel, Windermere Ballroom. The Opening Ceremonies Keynote presentations will follow the ceremonial opening and welcoming remarks from the 2017 Leadership.
The 2016 Keynote Speakers were:
Service Keynote: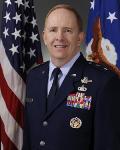 Maj. Gen. Robert D. McMurry, Jr.
Commander, Air Force Research Laboratory
Maj. Gen. Robert D. McMurry Jr. is the Commander, Air Force Research Laboratory, Wright-Patterson Air Force Base, Ohio. He is responsible for managing a $2.1 billion Air Force science and technology program and an additional $2.3 billion in externally funded research and development. He is also responsible for leading a government workforce of approximately 6,000 people in the laboratory's nine component technology directorates and 711th Human Performance Wing.

General McMurry entered the Air Force in 1984 through the University of Texas ROTC program. He has served in a variety of engineering, program management, staff and command positions within Air Combat Command, Office of the Assistant Secretary of the Air Force for Acquisition, Air Force Materiel Command, Air Force Space Command and the Missile Defense Agency. He commanded the 508th Aircraft Sustainment Group, Ogden Air Logistics Center, Hill Air Force Base, Utah, and the Airborne Laser Systems Program Office, Aeronautical Systems Center, Kirtland AFB, New Mexico. He was the Director, Iraq Security Assistance Mission in Baghdad, Iraq. He also served as Space Programs Director for the Office of the Assistant Secretary of the Air Force for Acquisition, Washington D.C. His most recent assignment was Deputy Program Executive Officer for Space and Vice Commander, Space and Missile Systems Center, Los Angeles AFB, California.


Industry Keynote:

Daniel Serfaty
Founder & CEO, Aptima, Inc.
Chairman, Aptima Ventures, LLC
As Aptima's Principal Founder, Daniel Serfaty has established and implemented an ambitious vision for Aptima as the premier Human-Centered Engineering business in the world. In addition to his management and governance duties, his work continues to involve the leadership of inter-disciplinary projects for U.S. government agencies and private industries. These efforts aim at optimizing factors that drive cognitive, behavioral, and organizational performance as well as integrating humans with technologies to increase resilience in complex socio-technical systems. Recently, he has led the launch of a sister company to Aptima, named Aptima Ventures, dedicated to the commercialization of Aptima's intellectual property in human performance. Initial ventures in the new company's portfolio are in the fields of learning technologies, corporate training, predictive medical analytics, and cognitive health. His many industry activities include the leadership of various technology leadership forums, and serving on the board of directors of several technology businesses, and on senior advisory boards of academic, educational, and non-profit institutions.

Daniel Serfaty's academic background includes undergraduate degrees in mathematics, psychology, and engineering from the Université de Paris and the Technion, Israel Institute of Technology, an MS in aerospace engineering (Technion), and an MBA in International Management from the University of Connecticut. His doctoral work at the University of Connecticut pioneered a systematic approach to the analysis of distributed team decision-making. He is the recipient of the University of Connecticut Distinguished Service Award and has been inducted in its Engineering Hall of Fame.


Session Keynote:

Admiral John M. Richardson
Chief of Naval Operations
Admiral John Richardson graduated from the U.S. Naval Academy in 1982 with a Bachelor of Science in Physics. He holds master's degrees in electrical engineering from the Massachusetts Institute of Technology and Woods Hole Oceanographic Institution, and National Security Strategy from the National War College.

At sea, Richardson served on USS Parche (SSN 683), USS George C. Marshall (SSBN 654) and USS Salt Lake City (SSN 716). He commanded USS Honolulu (SSN 718) in Pearl Harbor, Hawaii.

Richardson also served as commodore of Submarine Development Squadron (DEVRON) 12; commander, Submarine Group 8; commander, Submarine Allied Naval Forces South; deputy commander, U.S. 6th Fleet; chief of staff, U.S. Naval Forces Europe and U.S. Naval Forces Africa; commander, Naval Submarine Forces, and director of Naval Reactors.

His staff assignments include duty in the attack submarine division on the Chief of Naval Operations staff; naval aide to the President; prospective commanding officer instructor for Commander, Submarine Forces, U.S. Pacific Fleet; assistant deputy director for Regional Operations on the Joint Staff; and director of Strategy and Policy at U.S. Joint Forces Command.

Richardson served on teams that have been awarded the Presidential Unit Citation, the Joint Meritorious Unit Award, the Navy Unit Commendation, and the Navy "E" Ribbon. He was awarded the Vice Admiral Stockdale Award for his time in command of USS Honolulu.
Richardson began serving as the 31st Chief of Naval Operations September 18, 2015.