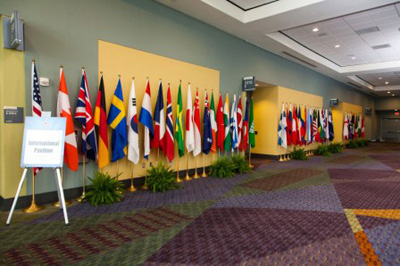 I/ITSEC International Statistics for 2016

1800 international registrants
I/

ITSEC

warmly welcomes the attendees from outside the USA.
Conference organizers make a special effort to provide assistance and enhance the I/
ITSEC
experience of our international participants. Courtesies extended to our international visitors include a special lounge, called the International Pavilion; internationally
themed
special events; and personalized support and tours.
International Pavilion
Room

S310

E-H
Five meeting rooms that can accommodate up to ten people each (by reservation only)
Lounge area to relax with refreshments and mingle with colleagues or plan your daily agenda
Open through Sunday through Thursday, 26 - 30 November
The International Pavilion will provide a place for you to meet, learn more about the conference, and interact with international colleagues.
International Reception
Join us Wednesday evening for a reception that acknowledges your international participation in I/
ITSEC
2017 and recognizes our Best from Around the Globe presenters. Check in the International Pavilion for information about the International Reception on Wednesday evening.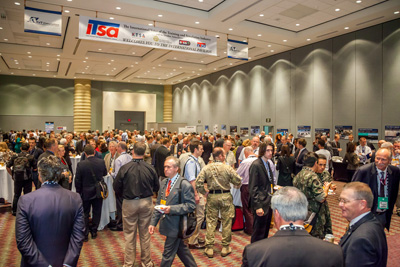 International Reception

Special Events for I/ITSEC 2017


Buying Innovation in Military Technology
Tuesday 28 Nov • 1600- 1700 • Room S329

Global General/Flag Officer Perspectives in Learning
Wednesday 29 Nov • 0830 • Room S330BCD

International Collaboration 2017
Wednesday 29 Nov • 1400 • Room S330BCD

International Future Authors Session
Wednesday 29 Nov • 1630 • Room S310C
Cloud-Based Simulation: Hype or Reality?
Wednesday, 29 Nov • 0830 • Room S320GH


Additional Tutorials and Papers that are from International Authors or are of International Interest are distributed throughout the program. Check for the International Symbol (an airplane icon).

Conference Awards Banquet
We encourage you to make plans to stay and attend the Conference Awards Banquet to be held on Thursday evening. This is a great way to close out the week and celebrate the 51st Anniversary of the conference! The banquet dress code is listed in the program as Black Tie (optional), but we would like for you to feel free to wear your nation's formal traditional dress/costume to the evening's events. Let's celebrate together the world's largest modeling, simulation, and training conference—51 years in the making!

Helpful International Travel Links

Apply for a Visa Online
Request a Letter of Invitation from NTSA
(Please download Request Form (PDF) and email to sjriemer@ndia.org , allow 10 days to process)
Embassies/Consulates
Currency Converter
Travel Tips from TSA


Contact Information:
Dr. Denise Threlfall
International Programs Director, I/ITSEC 2017
denise.threlfall@gmail.com

Sponsorship Opportunities with the International Pavilion:
Ms. Debbie Langelier, CEM
NTSA, Director of Exhibits & Sponsorships
dlangelier@ndia.org